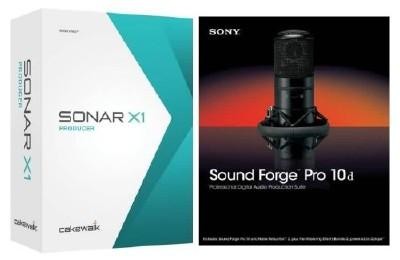 Cakewalk SONAR X1 Producer
является одним из самых популярных цифровых аудио рабочих станций (DAW) в мире, обеспечивая полный цикл аудио производства и включает в себя все необходимое для создания музыки. Также присутствовали в сборнике
SoundForge 10
- новая версия мощного аудио-редактора, который включает в себя набор различных утилит, предназначенных для работы со звуком.
Cakewalk SONAR X1 Producer
Sonar is one of the most popular digital audio workstation (DAW) in the world, providing a full cycle of the audio output and includes everything you need to create music. Audio engine software allows you to process audio with 64-bit word length and sampling frequency of 384 kHz. The program allows you to mix in more than 30 different surround formats (surround sound formats.) Sonar X1 includes an audio effects, professional level, built-in emulation of high-end mixing consoles, a large number of virtual synthesizers, including a virtual piano, sampler, a set of samples and loops, many istrument editing audio material, POW-r Dithering.
SoundForge 10
SoundForge 10 - new version of the powerful audio editor, which includes a set of different tools designed to work with sound. With this program you will be able to effectively handle audio files, edit samples, record sounds, many effects on the recording, encode audio data, convert audio files from one format to another, and much more. Typically, the program uses sound and producers on the set of recording studios, but with thought-out interface, the program can be easily used by ordinary users. In the tenth version you can edit the audio, based on events, record CD-ROM drive Disc-at-Once, there were new DirectX-ins, as well as other innovations and improvements.
Installation instructions:
1. Install the program Sony Sound Forge Professional 10.0d Build 503 using the setup.exe file
2. After installation is complete run the file Keygen.exe, in line Product Name to select Sound Forge 10 Series
3. Press Patch ... and specify the path to the installed program. For example, C: Program FilesSony. Sony A JUST NOT C: Program filesSonySound forge 10.0
4. Run the program, a window appears asking to enter a serial number, which you copy from the line of Serial Number in Keygen.exe click More ...
5. Vibiraem click Registration from another computer, then ...
6. Fill in the form of random data, agree with the terms of the license, More ... save the log file to any location
7. In the window that appears paste the code received from the Keygen.exe in line Activation / Authentication Code ...
Cakewalk SONAR X1 ProducerVersion:
X1a
Platform:
Windows
Compatible with Seven:
yes
Language:
English
Medicine:
present
SoundForge 10Year:
2012
Version:
10d build 503
Platform:
PC: x86-x64
Compatible with Seven:
full
Language:
English + Russian
Medicine:
the tablet is present
Размер:
6.24 Gb
Скачать Cakewalk SONAR X1 Producer (x86/x64) + Sony Sound Forge Pro 10d